Hail from the desks of Whalenought!
We got some real neat mail today we wanted to share. The wonderful folks from CD-Action sent us two copies of our review, in lovely magazine form. (This was actually the second attempt, as the first seems to have gotten lost in transit or raided by pirates while flying across the sea.) Sandwiched in-between CD-Action's classic array of brutal and honest reviews, our 8 is a monument of pride for us. Besides the 100 physical journals scattered throughout the world, it's also the only non-digital acknowledgement of the existence of Serpent in the Staglands, which makes it very special for us.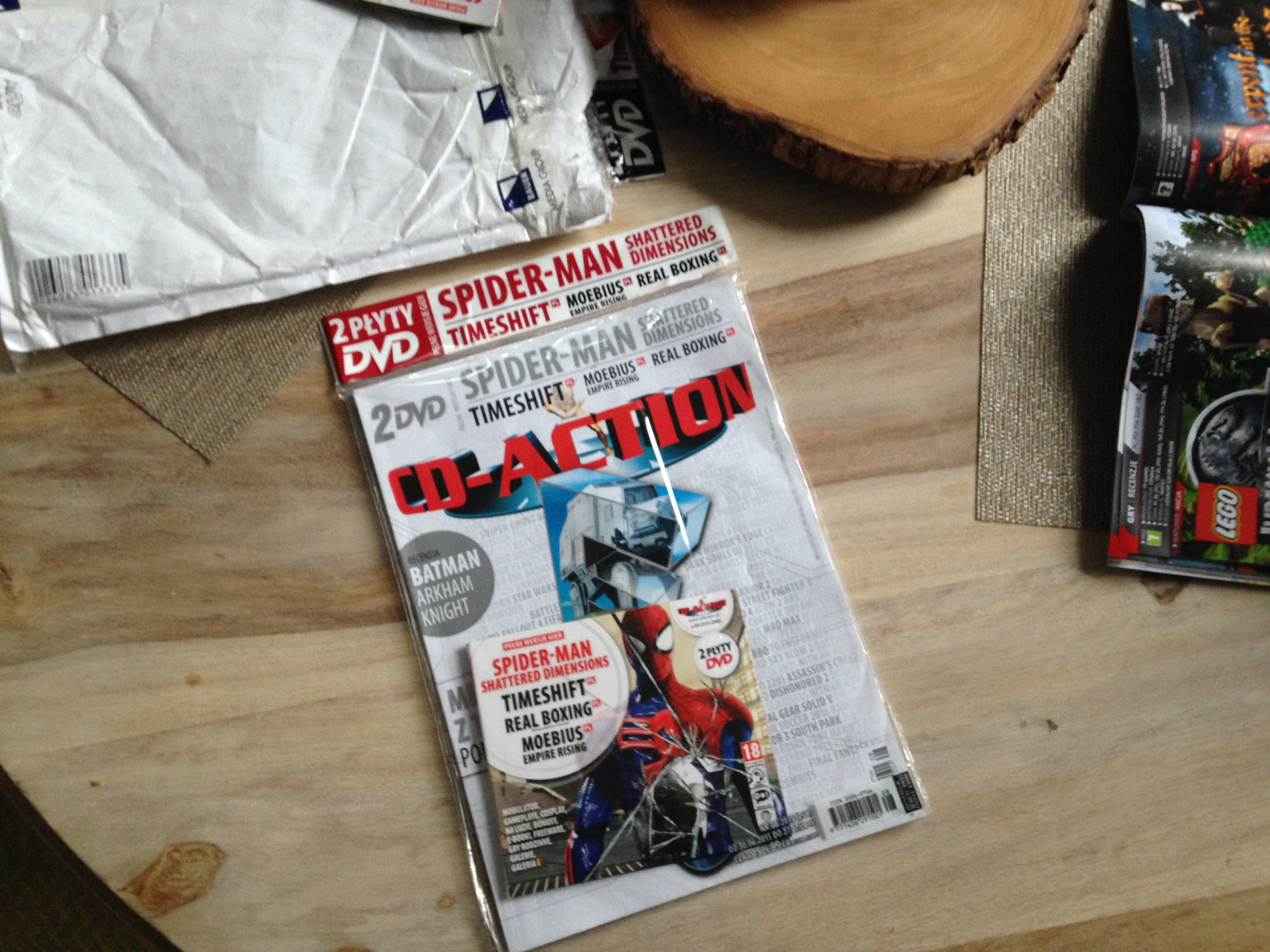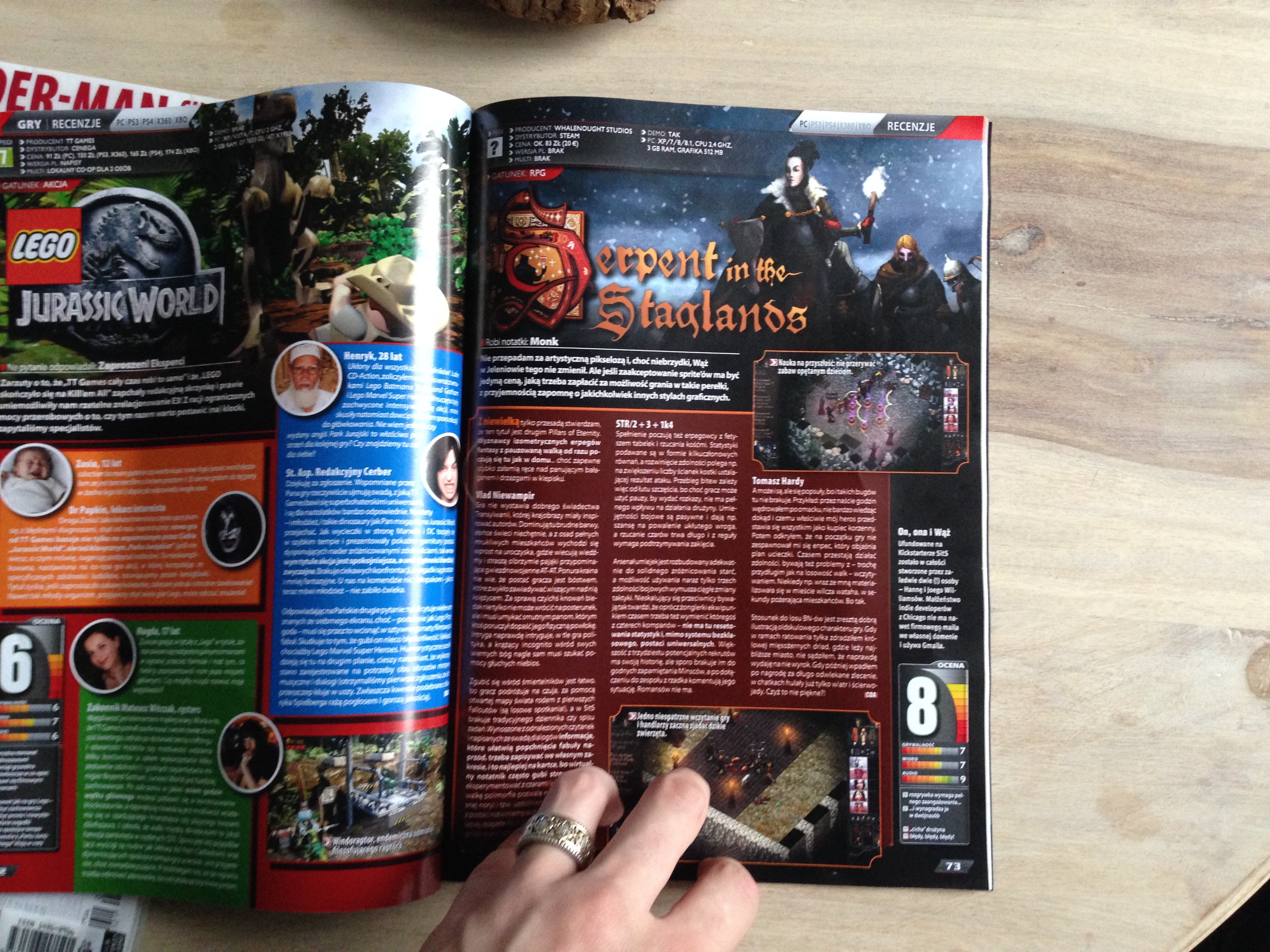 We're keeping an unopened copy to add to our tomb later in life, and getting a nice display for it in the office. For now it rests with what game-boxes made the cut from our recent move. Thanks CD-Action, and Poland, for taking the time to check out our game!
Serpent in the Staglands also had a review hosted by RPG Watch recently, check it out if you're interested!
Also in the Vol goods realm, a fun fellow named Fluent is having a Serpent in the Staglands Giveaway, so hit him up if you'd like a free copy of the game!
As for the desks of Whalenought themselves, they've been a whirlwind of activity the past couple months since we moved to Seattle. We have another small update for Serpent in the Staglands coming up, likely to be the last for a while. The plan for the expansion is going to be discussed more thoroughly later this year, and we think folks will be very excited about that news. We'll link to that with the usual channels along with a Kickstarter update to let all our Serpent in the Staglands backers know what's coming.
Before that though, we're planning a big announcement regarding our next endeavor! We've had a tremendous learning experience with Serpent, and through the process have refined our development of everything from system management to art implementation. We couldn't have gotten here and continued this without the culmination of support we've had from folks who enjoyed Serpent in the Staglands, and we can't thank you all enough. While we happily run this operation on potatoes and dreams, it wouldn't be possible at all if there wasn't a passionate market for this kind of game, making it viable for us to continue. While our next project will be quite different than Serpent, it's got even more digital dice wielding at heart, so we think folks who enjoyed what we tried in the Staglands will be right at home.
Being such a small team with a singular effort, it is a sort of odd experience planning 1-2 year chunks of life at a time. However we wouldn't be putting all our dice and lives into this for next year if we weren't confident in it, and we think you all will love it. It's mechanically very unique in a lot of implementation, featuring some interesting combat mechanics and adapting a lot of p&p systems we want to see in a game. It's a system we think is so great we're planning to use it to set the stage for the next set of Whalenought brand of games to come. That said, this fall should be an exciting start of a new chapter for Whalenought. Thanks for sticking with us thus far!
Cheers!